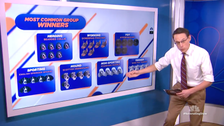 Steve Kornacki applied his analytic prowess to one of the year's most cherished contests and viewers were barking mad for it.
The MSNBC political correspondent and "chartthrob," who developed a cult online following after his tireless coverage of the 2020 election, made sure Thanksgiving day viewers were well-informed Thursday as the top dogs of the country battled it out in the National Dog Show.
Of course, he did so in his tried-and-true uniform: a white shirt, striped tie and khaki slacks, the latter of which even got a special mention in Kornacki's appearance on People's 2020 Sexiest Men Alive list.
In the end, it was Winston the French bulldog who took home the coveted Best in Show title. According to Kornacki's analysis, Winston beat the odds: Dogs in the terriers and hound groups have, by far, been the most frequent winners of the category in the last 20 years.
"It is not even close," Kornacki had said earlier. "It is terriers and hounds in a runaway."
Scroll for viewers' reaction to Kornacki's canine crossover: