Pakistan has a MASSIVE wicket in the final ball of the powerplay as Shadab Khan runs out Devon Conway!
Conway and Kane Williamson (13 off 13) were building nicely after the early loss of Finn Allen, rotating the strike expertly.
Conway hit a lofted drive towards Shadab who was placed at mid-off and immediately set off for the run, but the ball bounced perfectly for Shadab, who then threw down the stumps.
"A brilliant bit of fielding," says Shaun Pollock. "You could see by the reaction of Conway, once he ran by the stumps he smacked his pad."
"Sometimes it bounces low and hits you in the ankles, but that bounced up to waist height.
"You want your fielders to stand up and be a part of the attack in a big match and they've done that already."
Black Caps great Simon Doull isn't too impressed with Conway's running there.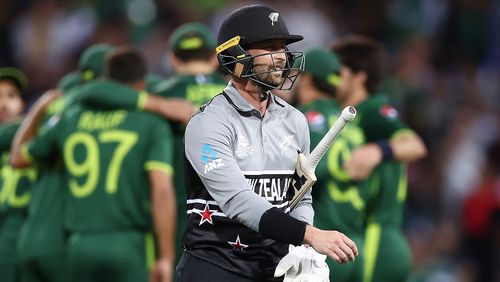 "If you want to preserve your wicket, you should be diving," he said.
"You'll see Glenn Phillips diving I'm sure if there is any chance of being run out. If Conway dives, I think he's on. He's only out by six or eight inches.
"If you really put a price on your wicket, the dive has to be a part of the game and every batter needs to produce it."
Speaking of Glenn Phillips, he is the next man in for the Kiwis, in a little earlier than New Zealand would have liked.